At Peterson Chrysler Jeep Dodge Ram, we try to help our drivers in the Fayetteville, Fort Bragg, and Pinehurst areas in every way that we can when it comes time for them to decide on their next car. Our vehicle reviews are helpful in giving a brief overview of a vehicle and its features. However, some drivers need a little more detailed information in order to make up their mind about the vehicle that they want.
 One of the most common deciding factors that drivers are starting to go by with their decision is the technology features. Because technology evolves so quickly, each year, vehicles come with sophisticated systems and components that drivers want to know about. That's why we have these technology reviews, so drivers can learn all about the latest technology systems that are featured in their favorite Chrysler, Jeep, Dodge, and Ram models.
2017 Jeep Grand Cherokee Technology
Our Technology Reviews
 Our technology reviews focus solely on the different technology features in the latest models. You'll learn about technology features that aid in convenience, performance, safety, and of course, entertainment. You'll also learn about optional technology features and the specific trim level that they come with, so you can plan ahead and know the exact vehicle that you're considering.
How These Technology Reviews Can Help
Learning about a vehicle that you're considering taking home is crucial, so you can know exactly what you're getting. These technology reviews are more focused on a specific aspect of the vehicle by showcasing some of its impressive and cutting-edge systems and features. You can effectively learn what technology features are equipped in the vehicle that you're interested in the most. You'll even learn what these systems can do and how you benefit as the driver.
Do I Need to Read These Technology Reviews?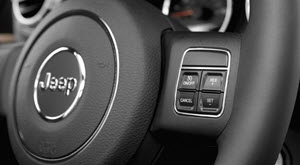 You don't have to read these reviews if you don't deem them necessary to your search criteria. However, these reviews could potentially show you new and exciting vehicle technology that you haven't heard about yet. By reading about some of these features, they could make the list of important features that you're looking for with your next car.
To get started, simply look for the vehicle that you're interested in, click, and learn all about its featured technology.
At Peterson Chrysler Jeep Dodge Ram, we're always happy to help drivers from the Fayetteville, Fort Bragg, and Pinehurst areas learn more about the vehicles they're interested in.