Grand Wagoneer Models Arriving Soon in North Carolina
The upcoming 2021 Jeep Grand Wagoneer concept exhibits a master class in automotive architecture, blending modern design aesthetics with an unmistakable heritage. Influenced by both the American landscape and our industrious spirit, the interior of the new 2021 Grand Wagoneer features a collection of premium-wrapped materials, hand and heat-treated blackened lace-wood with raw accent edging and authentic dual-texture metal framing. Crafted to be comfortable and convenient, our Lumberton customers can't wait to see the exciting design of the 2021 Jeep Grand Wagoneer.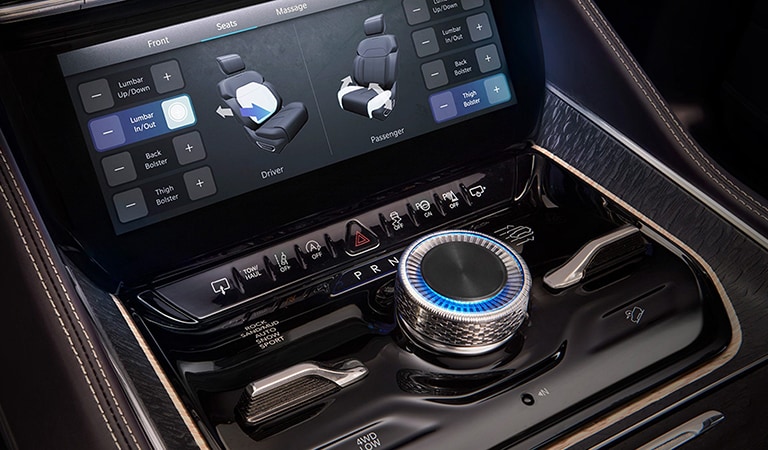 Grand Wagoneer's stunning LED displays and state-of-the-art camera innovation enhance your control over the road. Available technology features include:
12.3-inch digital cluster
Rear seat entertainment displays
Wi-Fi streaming capability
12.1-inch center touchscreen
And more
The intelligent LED lighting of the 2021 Grand Wagoneer cuts through the night and follows every turn of the road. Available exterior features include:
Full-length glass roof
24-inch multi-spoke aluminum wheels
Quadra-Lift® Air suspension
Signature taillamps
And more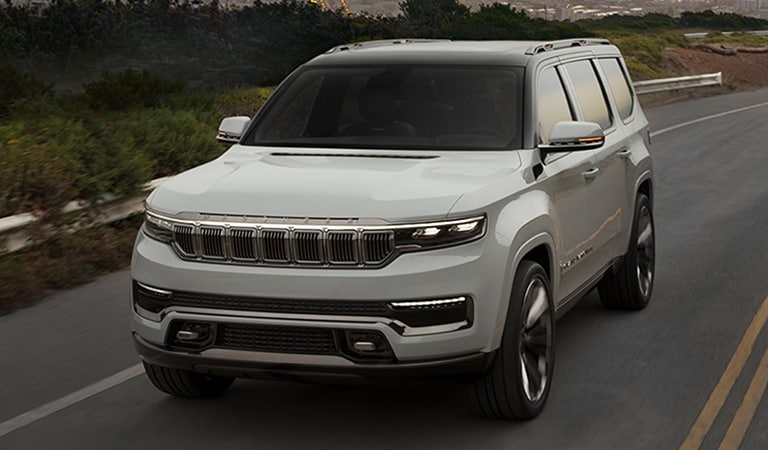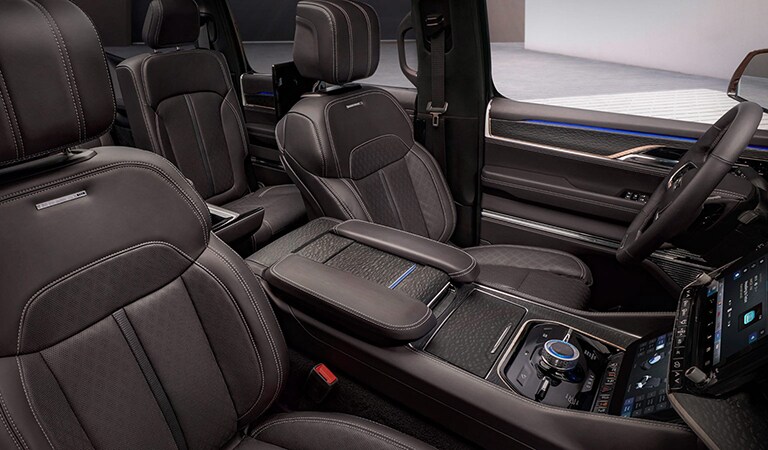 Jeep Grand Wagoneer takes inspiration from classic materials and finishes to create modern design and premium style. Available interior features include:
McIntosh® sound system
Diamond silver-tipped piping
Dual-texture metal framing
Advanced safety features
And more
Jeep Grand Wagoneer FAQs
What are some new features in the Jeep Grand Wagoneer?
Peterson CDJR is proud to present the 2021 Jeep Grand Wagoneer and it's incredibly modern redesign. In the new Grand Wagoneer you will see an upgrade in technology and in interior design that highlights Jeep's entrance into the luxury SUV space with features like the full-length single pane glass roof that is sleek and functional. This roof will allow you to experience road trips in an exciting and mesmerizing way for the driver and passengers alike allowing everyone to enjoy the incredible views. The interior only gets better with the industry exclusive McIntosh speaker system found throughout the cabin giving passengers a truly luxurious experience. 
How does the Wagonner compare to other Jeep SUVs?
The new 2021 Jeep Grand Wagoneer is in its own unique class of Jeep SUV though it is similar is size to the Jeep Grand Cherokee the design and feel are very different. This is the first time Jeep has released a full sized SUV that is rivaling many of the familiar and popular models of luxury SUVs that are on the market now, but the Grand Wagoneer is in its own class with the Jeep brand. With its unique and American designed interior to its exterior featuring rear and front backlit badging that makes it stand out in a sea of SUVs. Along with its geometrically designed aluminum and obsidian 24-inch wheels. It is far from comparable to anything else Jeep has on its line-up so far. 
Is the new Jeep Grand Wagoneer a luxury Jeep?
The new Jeep Grand Wagoneer is not only a luxury Jeep but it will be Jeep entrance into the luxury SUV market. This incredibly sophisticated vehicle is going to be comparable to the top luxury SUVs with its interior leather work and MacIntosh sound system. The dash of the vehicle radiates luxury with a leather wrapped dash, steering wheel, and accents. You will be riding in complete leather comfort while being able to enjoy its incredible new technology that connects the entire experience of the Grand Wagoneer. The 45-inch total display functions as a hub for your Jeep SUV that seamlessly blends into the dash creating a futuristic and stylish design. 
Can the new Jeep Wagoneer handle off-roading?
This Jeep SUV is designed for the rugged outdoors and has incredible features for any adventure you have your mind set on. With its incredible Selec-Terrain® Traction Management System with five drive modes including rock, sand, snow, sport and auto. You are able to tackle any terrain you put the Grand Wagoneer up against while also having a powerful towing capacity. This luxury Jeep SUV is designed for utility in every way and will be able to handle any adventure whether you are going camping through a tough terrain, or driving through tough snowy mountains it has you covered.